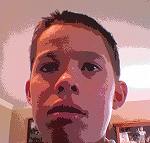 THIS IS KEN, REPORTING FOR THE RED ARROW NEWS: (注:なかなか更新することができないので子供にやらせてます。あしからず。)
A bird has banged against the sliding-door window. People are rushing to the door, knowing that most birds break their necks after they hit the window. While the kids are rushing to the door, I will take some time to tell the details.
It is mid-afternoon, and the kids are doing various activities.
We were rudely interrupted, and are now opening the door. It is a big thrush, and it is still alive. Over to Sayna Smith: "It is amazing that it (the thrush) is alive." "There, you can see its chest moving." I take up the bird, and get a photo of it, perched on my finger. It cannot fly, as it is in shock. We give it bread, and it has the bread in its beak, but it will not eat. We left it on an outdoor chair. Sophia claims to have seen it fly away.